Lavada Fold Flared Leggings 31" - Black
Easy returns
These leggings feature a flared design that beautifully complements your silhouette. Designed with practicality in mind, these leggings come with a foldable waistband that adapts to your needs, allowing you to customise your fit for maximum comfort. The sleek overall design contours your body, offering both style and functionality in one package. With Lavada Fold Flared Leggings, you get the best of both worlds—a fashionable look that flatters your figure and the comfort you need for your daily activities.
Fabric: 75% Nylon, 25% Spandex
Model stats: Height: 5' 2'', Bust: 34'', Waist: 29'', Hips: 40''
Model wears: Small
Kamo sizing suggestion:

 

True to size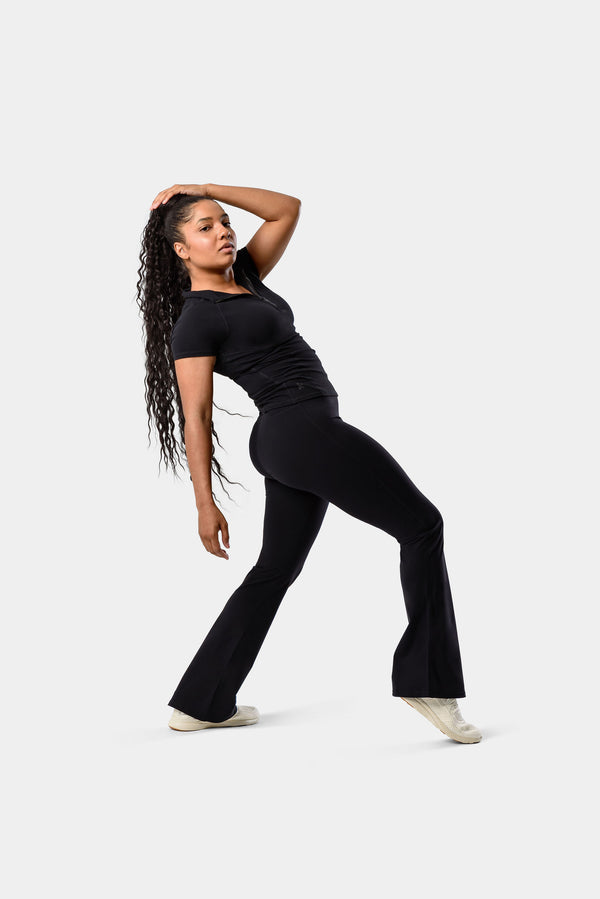 Lavada Fold Flared Leggings 31" - Black
Very high quality
These leggings are so comfortable. The fabric is thick and soft, I would definitely buy again. ⭐️⭐️⭐️⭐️⭐️
Truly the best flares
These are amazing. They feel so good, the compression is just right and the sizing is accurate. I'm 145lbs, 5'6" and I got a size medium. I'm about to order a 2nd pair and I've only had these for a few days!
Perfect Fit
These are amazing! The fold over is so cute and just the right amount of compression. Not too tight but definitely not loose. The compression around the butt and thighs is just the right amount and the flare starts at a perfect spot, not too high or too low. The only complaint I would have would be maybe a little longer, but this may be a personal preference because I like my flares to be nice and long. And per usual great material and just so cute. Due to the fold over the rise is adjustable which I love. I definitely want to buy more colors.