Sienna Sports Bra - Peach Bud
Easy returns
Made with high-quality materials, this bra is soft to the touch and gentle on the skin, making it perfect for everyday wear. The gathering detail also creates a flattering shape, enhancing your natural curves and providing a comfortable fit that is both supportive and breathable.
Fabric: 69% Nylon/31% Spandex
Model wears: Small

Kamo sizing suggestion:

 True to size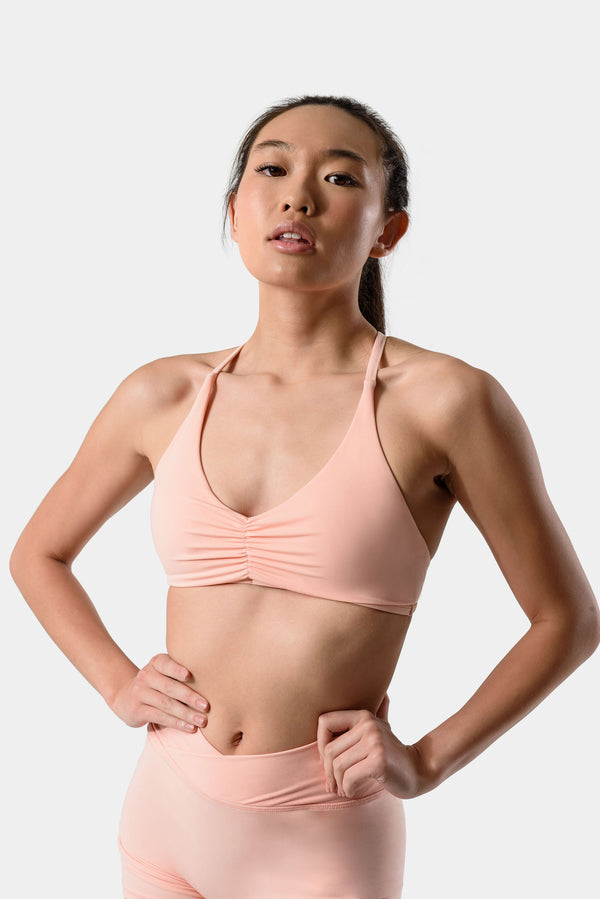 Sienna Sports Bra - Peach Bud
Very cute, runs small
Style: Very cute. Ruching is a nice detail, and it's overall lower coverage but never feels like I'm unsupported or going to fall out. Not a great choice to layer under a pump cover, but looks good on its own. Particularly good for people with smaller bust. Love the strappy open back for an upper body day.
Fit: Runs small, though not significantly smaller than other Kamo bras. I wear a S in most brands, occasionally an XS when I want a little more compression. The M in this bra fits me perfectly; I'm really glad I sized up.
Comfort: Very comfortable for lower-impact activity. I mostly wear it for weight lifting and lounge, though it would also be good for walking. The fabric is soft and good quality. The straps have enough give that they don't feel like they cut into my traps or sides, but still hold in place.
Cute & Comfortable
I ordered a Small. I am a 34A and recently had a lumpectomy. I was seeking out a comfortable, soft sports bra that didn't irritate my skin. This fabric is super comfortable and I love the Peach Bud color. The ruching creates a flattering style for petite bust lines.This has been very good for Pilates and treadmill walking workouts.